The FortiManager Starter Package is designed to simplify central management of several Fortinet Security Solutions and to provide one console to manage your network, giving you full control of your Fortinet devices with enterprise-class management.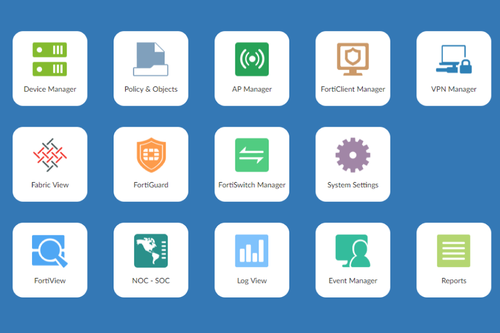 FortiManager Dashboard
Firewall central management projects and implementations are individual and adapt to the respective customer situation. However, when planning and implementing firewall central management projects, there are many similarities in required services and configurations that can be integrated into stand-alone Professional Service Packages.
FortiManager starter Package is designed for Virtual Appliances, such as:
And for FortiManager Physical Appliances, such as:


FortiManager-200F
The contents of the FortiManager Starter Package includes the Design of the FortiManager Central Management Solution, the FortiManager Initial Setup – Rack and stack of the FortiManager and the setup of the FortiManager on the network, FortiManager Virtual Machine Basic Configuration (Only required if using virtual FortiManager Appliances), the Registration and licensing of FortiManager Appliances and Updates.
The configuration will provide FortiManager Configuration per customer requirements regarding:
Managed FortiManager Devices
Administrative Domains (ADOMs)
Firewall Policy Packages
Dynamic Address Objects
Dynamic Interfaces / Zones
Global Objects
Global Policy Packages
Our Professional Services ensure you Post Implementation, Best Practice Configuration, Fine Tuning and Hardening, as well as Testing and Documentation to have a configured, verified, working, documented and accepted working solution.
Need help?
Larger projects or more complex configurations can be scoped out through our Certified Support Team.
Talk to our IT-Security Experts over the phone, and go through your specific requirements. They'll help you find the right Fortinet Solution and Consulting Package that meets your expectations.
Send a message to our Customer Support Team!