Overview
Any experienced Security Manager know how challenging can be the migration of a stratified and normally not fully documented configuration.
The FortiMigration Package is designed for the migration from legacy solution to next generation Fortinet firewall addressing and solving all those issues that seem relatively simple, but represent the challenge in a project based approach, supported by top-level staff from our Certified Professional Services Team. The FortiMigration package is planned and organized as a real project, ensuring a step by step verification approach for a seamless and error-free migration.
We support your migration from a 3rd Party Firewall solution as:
Cisco
Check-Point
Juniper
Palo Alto Networks
Sophos
WatchGuard
SonicWall
McAfee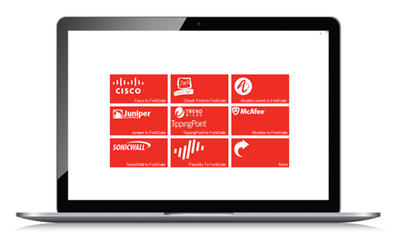 Package Content
The FortiMigration Package is a deliverables based project with defined duration and deliverables, so to ensure the new verified solution up and running in a defined time frame.
In order to get a clear picture, a migration workshop examining the current configuration of third-party Firewall Solution will be held, so to review the requirements together with the responsible internal/external administrator leading to the migration scope that will represent our baseline.
Firewall Migration Steps will be planned as well as configuration validation and tests after migration to FortiGate Firewall Solution.
Basic initial activities are about the Design of the FortiGate-Firewall, FortiGate Initial Set-up, Fortinet Virtual Machine Basic Configuration, Registration and licensing, FortiGate Firmware updates. After that, the FortiGate Configuration migration from third-party Firewall will address the customer requirements and design, implementing the following:
Static routes
Policy Routes
Firewall policies
Address Objects
Custom Service Objects
Source NAT
Destination NAT
Security profiles (AV, IPS, Web filtering, application control, etc.)
Remote Authentication - AD / LDAP Server / Radius Server Authentication
IPsec VPN tunnel
SSL VPN portals
After a formal Testing phase, the solution is handed-over to the Customer.
Post migration Best Practice Configuration fine-tuning and hardening are carried out before the Testing phase, which ensure requirements satisfaction, functional and performance validation.
At delivery, As Built Documentation is provided, including but not limited to:
FortiGate configuration
IP addresses
Admin access
Visio Firewall Design Overview
Need help?
Larger projects or more complex configurations can be scoped out through our Certified Support Team.
Talk to our IT-Security Experts over the phone, and go through your specific requirements. They'll help you find the right Fortinet Solution and Consulting Package that meets your expectations.
Send a message to our Customer Support Team!