Cisco Channel Partner Program: En forpligtelse til rentabel vækst
---
Cisco Channel Partner Program er i konstant udvikling. Dette program sikrer, at Cisco Partners har evnen til at fange nye muligheder, forfine software og tjenester færdigheder, samtidig med at differentiere sig på markedet.
Hvad er Cisco Channel Partner Program?
---
Cisco&akut;s omfattende Channel Partner Program er et af de mest anerkendte programmer i netværksbranchen.
Cisco Channel Partner Program belønner partnere for at tilføre værdi til Cisco-produkter og levere positiv kundeoplevelse. Programmet skitserer den nødvendige uddannelse i de nyeste Cisco-teknologier og giver medlemmerne eksklusive branding ressourcer og rabatter.
Cisco® Channel Partner Program består af tre separate programmer, der svarer til forskellige tilbudstyper: Videresalg, Managed Services og Outsourcing.
Hvorfor opnå en Cisco Partner-certificering?
---
Formålet med Cisco´s prisvindende Channel Partner Program er at sikre kundetilfredshed.
Cisco Channel Partner Program fokuserer på en partner&akut;s evne til at levere intelligente netværk og teknologiarkitekturer bygget på integrerede produkter, tjenester og softwareplatforme. Programmet tilbyder uddannelse i de nyeste Cisco-løsninger og -arkitekturer, ud over værdifulde brandingressourcer. Programmet udnytter bedste praksis, din ekspertise og solide løsninger til levering, samtidig med at udvide belønninger til din virksomhed, som du fortsætter med at udvide din Cisco forretning.
Certificeringsniveauer
---
There are three main Cisco Chanel Partner certification levels, as well as two certifications aimed at large multinational and global organizations that reflect a partner´s breadth of expertise.
Vælg: Udviklet specielt til partnere, der sælger til små og mellemstore erhvervskunder.
Premier: Giver en øget grad af support og adgang til yderligere bedste i klassen produkter.
Guld: Giver det højeste niveau af certificeringsbelønninger og anerkendelse.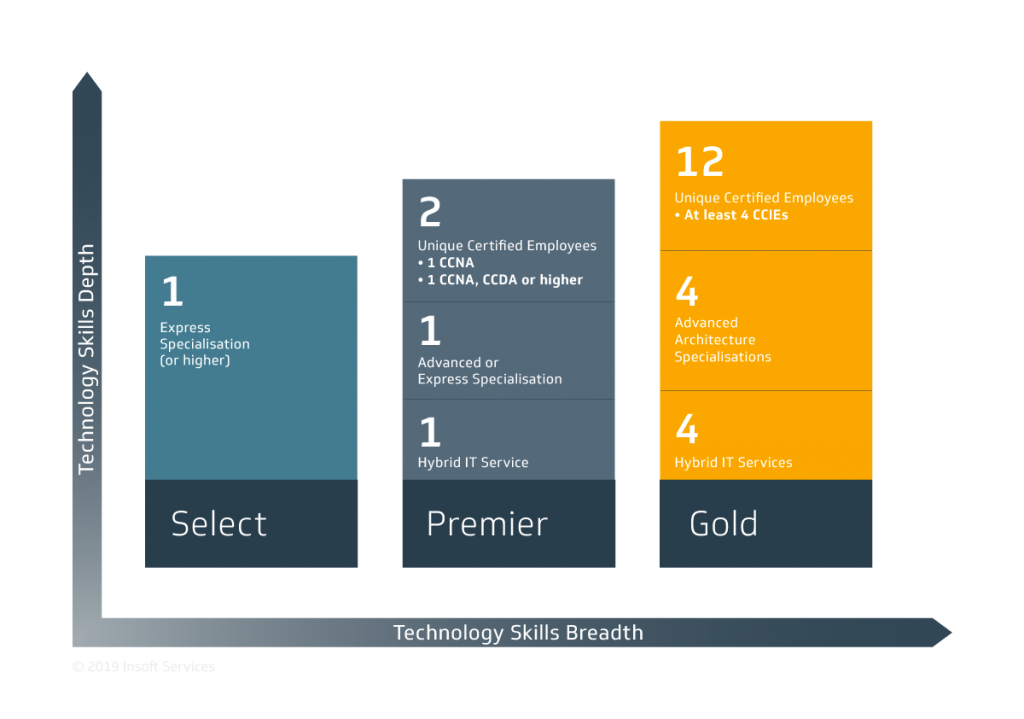 Globalt guld: Genkender partnere med ekspertise og ressourcer til at planlægge, designe, implementere og drive Cisco-netværksløsninger over hele verden.
Multinationale:anerkender partnere, der har ekspertise i at sælge, implementere og understøtte Ciscos arkitektoniske løsninger på tværs af flere lande inden for et givet Cisco GEO-område.
Specialiseringsniveauer
---
Der er tre niveauer af specialisering; Ekspres, avanceret og master; som er nødvendige for at opnå partnercertificeringerne og afspejle en partners teknologiske kompetencedybde.
Express:Cisco har erstattet Express-specialiseringerne for at gøre det muligt for partnere at lære, engagere og åbne nye teknologier. Nu er der en enkelt Express Specialisering med flere spor.
Avanceret: Cisco har reduceret det samlede antal avancerede specialiseringer på mellemniveau fra 13 til 6. Disse specialiseringer giver partnere mulighed for at differentiere og skille sig ud i et overfyldt marked.
Master: På det øverste niveau har Cisco tilføjet Master Networking Specialization, som omfatter software, automatisering, analyse, sikkerhed og programmering og gør det muligt for partnere at nå det højeste tekniske færdighedsniveau.
Sådan bliver du certificeret Cisco-partner?
---
Insoft Services leverer skræddersyede læringsløsninger, der hjælper dig med at arkivere den nødvendige certificering. Vores account managers forstår specialiseringskravene og kan samarbejde med dig om at evaluere dine nuværende medarbejdersedikationer og -funktioner og udvikle en uddannelsesplan, der kan hjælpe dig med at opnå, vedligeholde eller forbedre din ønskede partnerstatus.
Vælg klasseværelse, virtuelt klasseværelse, on-demand eller on-site levering for at understøtte dine certificeringsmål.
Ring til os på +44 (0) 20 7193 1373 eller send os en e-mail kursus@insoftservices.dk for at komme i gang.
Downloads & Ressourcer
---
Få yderligere oplysninger fra Cisco: Besøg Ciscos websted for at få flere oplysninger om Cisco Channel Partner Program.
Rolledeling: For de forskellige specialiseringer, Cisco fastsætter de roller en person kan opfylde. SeCisco-rolledelingsdokument for yderligere detaljer.
Hybridt it-servicekrav: Premier- og Gold-certificeringer kræver hybride it-servicefunktioner. Se disse certificeringssider for at få yderligere kravsoplysninger, eller se Cisco Hybrid IT-servicevejledning.