The FortiAnalyzer starter package provides the customer with specialist FortiAnalyzer Professional services for a seamless integration of this module into your Fortinet Security Fabric. By running this Package we will implement the stunning features that will allow you to have an instant insight view into threats, situation awareness and intelligent analytics and operations.
All services will be delivered by skilled, trained and Certified Professional Services Consultants.
The outcome of this Package is to allow you to operate your FortiAnalyzer solution for end-to-end security visibility, taking advantage of its features as Centralized Search and Reports, Automated Indicators of Compromise (IOC), Real-time and Historical Views into Network Activity and Light-weight Event Management in a seamless integration with the Fortinet Security Fabric-Correlates with logs from FortiGate, FortiClient, FortiSandbox, FortiWeb and FortiMail for a deeper visibility.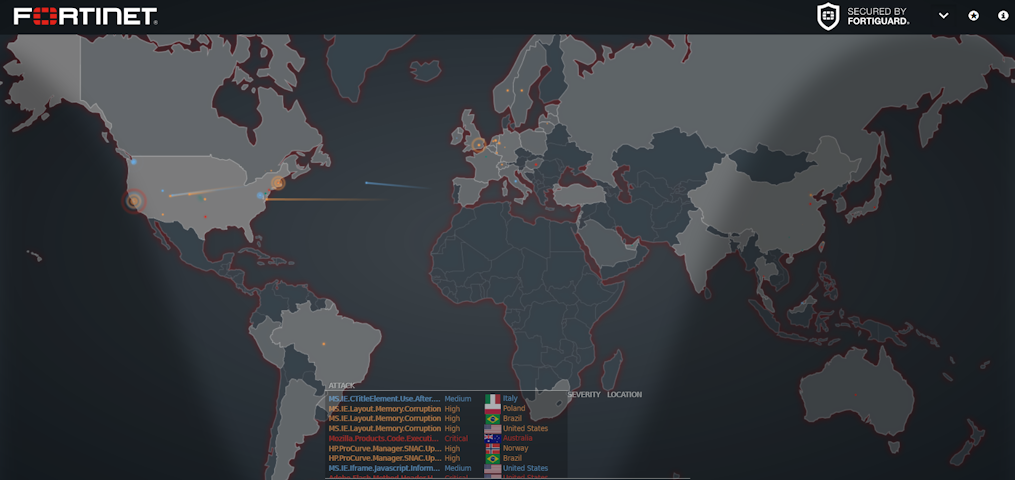 Fortianalyzer Threat Map
Your specific Performance and Threat Analysis requirements will be addressed by our Certified Professional Services Team to be able to size the best-suited solution to your needs.
Our Fortinet Certified Engineers will work with your IT-Security Consultant/ Administrator to determine which Appliance is suitable according to your needs, in case you have not yet purchased your new Fortinet solution.
Larger projects or more customised and complex configurations can be pre-screened with our Certified Professional Services Team to find a solution that meets your specific needs.
Initial activities are about the Design of the FortiAnalyzer solution, its Initial Set-up, FortiAnalyzer Basic Configuration, Registration and licensing, FortiAnalyzer Firmware updates. After that, the FortiAnalyzer Configuration is deployed according to customer requirements with the following scope:
Logging Devices
Administrative Domains (ADOMs)
Configuration and activation of predefined Events (Event Management)
Configuration and activation of predefined Reports
Configuration of Output (notification) profiles
Configuration of System and NOC / SOC Widgets
In addition, Post Implementation, Best Practice Configuration, Fine Tuning and Hardening is performed, as well as a sound testing phase for the acceptance of the developed solution.
Knowledge-Transfer and Use Cases Workshop with your Administrators for a fast and secure hand-over to Operations.
Need help?
Larger projects or more complex configurations can be scoped out through our Certified Support Team.
Talk to our IT-Security Experts over the phone, and go through your specific requirements. They'll help you find the right Fortinet Solution and Consulting Package that meets your expectations.
Send a message to our Customer Support Team!